Example 14
Jump to navigation
Jump to search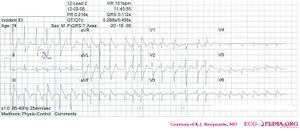 Following the 7+2 steps:

Rhythm

The ECG shows an irregular rhythm. There are no P waves. Atrial fibrillation.

Heart rate
Conduction (PQ,QRS,QT)

PQ: not appropiate QRS: 110ms QT: 360ms QTc: 560ms (prolonged)

Heartaxis

QRS positive in I and iso-electric in AVF: horizontal heart axis

P wave morphology
QRS morphology

Incompleter right bundle branch block. QS V4-V6. Q in III and AVF.

ST morphology

ST elevation in III,AVF and V6. ST depression in I, AVL, V2.

Compare with the old ECG (not available, so skip this step)
Conclusion?

Atrial fibrillation with inferior-posterior-lateral myocardial infarction and incomplete right bundle branch block. Lead I shows ST depression, suggestive of right coronary artery involvement.