Answer MI 21
Jump to navigation
Jump to search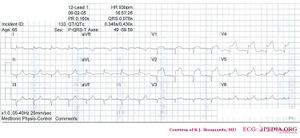 Following the 7+2 steps:

Rhythm

The ECG shows a regular rhythm with normal P waves (positive in I, III and AVF, negative in AVR), followed by QRS complexes. Sinusrhythm

Heart rate
Conduction (PQ,QRS,QT)

PQ: 160ms QRS: 80 ms QT: 340ms QTc: 416ms

Heartaxis

QRS positive in I and negative in II and AVF: left heart axis deviation

P wave morphology

P wave positive in II, III and AVF, biphasic in V1. The P waves have normal morphology.

QRS morphology

Narrow QRS. QS in V1-V2. Q in V4. Reduced R wave progression.

ST morphology

ST elevation in I, AVL, V1-V5 (V3=V4R and not elevated). ST depression in III and AVF.

Compare with the old ECG (not available, so skip this step)
Conclusion?

Sinusrhythm with anteroseptal infarction. Ischemic vector is pointing upwards (ST depression in AVF), a sign of proximal LAD occlusion.