Example 11
Jump to navigation
Jump to search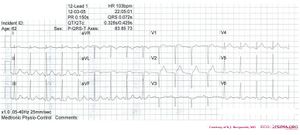 Following the 7+2 steps:

Rhythm

The ECG shows a regular rhythm with normal P waves (positive in II, III and AVF, negative in AVR), all followed by QRS complexes. Sinusrhythm

Heart rate
Conduction (PQ,QRS,QT)

PQ: 160ms QRS: 80ms QT: 340ms QTc: 439ms

Heartaxis

QRS positive in I and AVF: normal heart axis

P wave morphology

Tall P waves in II, but no more than 2.5mm. Otherwise normal P wave morphology.

QRS morphology

Narrow QRS. No pathologic Q waves. Slow R wave progreesion. (However, lead V3 is probably at position V4R)

ST morphology

ST elevation in V2. Some ST elevation in leads I and AVL. Some ST depression in V6. Lead V3 again shows V4R which is not elevated.

Compare with the old ECG (not available, so skip this step)
Conclusion?

Sinustachycardia with anteroseptal infarction.