Cases and Examples
Jump to navigation
Jump to search
Below you can find some common examples. ECGs can be magnified by clicking on the image....
Simple
Click on the name below the ECG for the case descriptions. Click on the ECG for enlargement of the ECG itself...
Rarities
Which coronary vessel is occluded?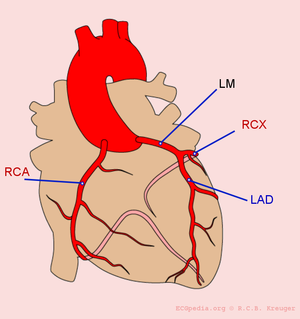 Click on the ECG for magnification. Check the chapter on myocardial infarction if you would like to review the ECG characteristics of the possible occlusions. Click on "answer" for the results of the angiography.
Help us!
mail or fax (faxnumber +31-84-755 0017) a typical or difficult ECG and we will add it to the site anonimized.